Color your meal happy
with 16 grams of protein!
These delectable plant-based protein toppers pack a mighty crunch, and you'll never want to have your favorite dish without them. Our tri-soy medley offers the perfect complement to pasta, soup and salads when you're looking to add texture and vegan protein in your meals.
Fueled with Compassion®
Our convenient, plant-based protein toppers provide good nutrition while helping to protect the planet and all those living on it. This first shelf-stable, conscious vegan protein solution is designed for all of us aspiring to invite more compassion into our lives.
$23.99 per 4-box case
252 in stock
Case contains 4 boxes, each box contains 3 packets (total of 12 individual serve packets)
NET WT. 1.23 oz (35g) per packet
NET WT. 3.7 oz (105g) per box
NET WT. 14.8 oz (420g) per case
Ingredients: non-GMO Soybeans, non-GMO Edamame,
non-GMO Soybean and/or Sunflower Oil, Salt.
Contains Soy.
Made in a facility that processes
tree nuts.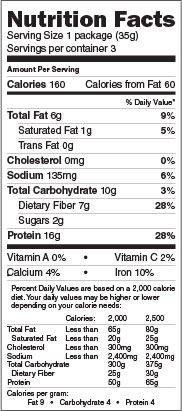 Vegetarian Traveler® Protein Toppers® are Fueled with Compassion®. Our convenient, plant-based solutions provide good nutrition, protect the planet, and provide peace. The first shelf stable vegan protein that harmoniously blends into the foods you already eat.