Try all 3 varieties with our Medley Sampler!
Plus FREE shipping and handling!
A great way to experience the different tastes of our plant-based protein toppers—while getting 15-17 GRAMS of protein in each bag! Pop them into your purse, bag or pocket. Perfect for your next on-the-go protein pick me up!
Fueled with Compassion®
Our convenient, plant-based protein toppers provide good nutrition while helping to protect the planet and all those living on it. This first shelf-stable, conscious vegan protein solution is designed for everyone aspiring to invite more compassion into our lives.
Shipping and handling costs included! Also includes a $5 off coupon code for your first case purchase on this website.
Free shipping only in continental US.
$9.95 per 3-packet medley sampler
Sampler contains 3 individual full-sized serving packets:
1 Tri-Soy Medley
1 Pepita & Soy-Pea Medley
1 Garbanzo & Soy Medley
NET WT. 1.23 oz (35g) per packet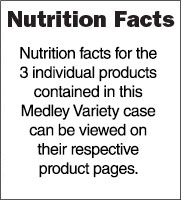 Vegetarian Traveler® Protein Toppers® are Fueled with Compassion®. Our convenient, plant-based solutions provide good nutrition, protect the planet, and provide peace. The first shelf stable vegan protein that harmoniously blends into the foods you already eat.